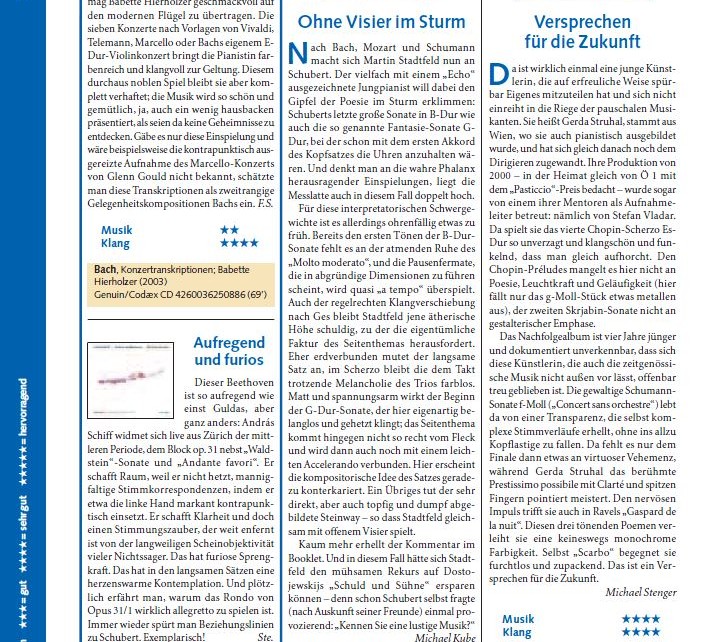 Promise for the Future
Now here, finally, is a young artist who you feel has something of her own to say, and delightfully so, instead of simply joining the ranks of generic musicians. Her name is Gerda Struhal, from Vienna, where she received her pianistic education, and subsequently also turned towards conducting. Her production from 2000 – which, at home, immediately received a prize, the "Pasticcio Preis"- was actually overseen by one of her mentors, Stefan Vladar, as the recording supervisor. There she plays Chopin's fourth Scherzo in E flat [sic] Major so undismayed and with beautiful sound and glittering, that one immediately pricks up one's ears. The Chopin Preludes do not lack poetry, luminosity and virtuosity (only the g Minor piece seems a little metallic), neither does the second Scriabin Sonata lack creative emphasis.
The succeeding album is four years younger and documents unmistakably that this artist, who also has not left contemporary music aside, remains true to herself. The enormous Schumann sonata in f Minor ("Concert sans Orchestre") lives with a transparency, that even lightens up complex voicing without falling into over-heaviness. Only the Finale lacks a little virtuoso vehemence, while Gerda Struhal masters the famous Prestissimo Possible accurately with clarity and pointed fingers.
She also meets the nervous impulse in Ravel's Gaspard de la Nuit. She gives these three sounding poems absolutely no monochromatic colors. She even encounters Scarbo fearlessly and with grip. This is a promise for the future.
(music: 4 out of 5 stars, sound: 4 out of 5 stars)
Michael Stenger, Fono Forum, December 2007, (German original)