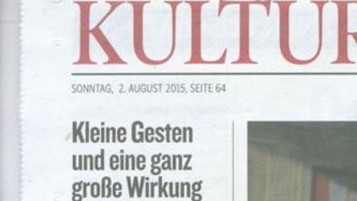 "Small gestures, tremendous impact"
Viennese pianist Gerda Struhal delights at CS Ossiach. Ascending and descending chromatic scales: Pianist Gerda Struhal presented an audacious programme at the Carinthian Summer. All of a sudden, it was just a short step from the proverbial "Old" to the "New" Testament of piano literature. The deliberate selection of six preludes and fugues allowed Struhal to lend the Old – Bach's "Well-Tempered Clavier" – a special dramaturgy. At her contrast-rich interpretation of the fugue in C-sharp minor, at the very latest, you found yourself in a different world.
This unconventional sequence, in which each piece developed an independent dynamic yet still followed a chromatic ascent of keys, provided a framework for Ernst Krenek's second piano sonata. Struhal played so resolutely, it took your breath away. The transitions between Bach and Krenek were seamless, the pianist noticeably wanted to get the spontaneous applause over with quickly. Great gestures weren't her thing: The little transitions were, though in her case they included whole centuries of music.
Thus it was only a small step to Beethoven as well – the "New Testament" –, with Piano Sonata no. 29 "Hammerklavier" bridging the gap to Bach's counterpoints. Struhal mastered the difficult technical challenges with bravura. The encore was Scarlatti, and as inconspicuously as she had ascended to the stage, the pianist left again. An exit in half-steps that – just like the shifts between major and minor – means the world.
Philip Waldner, Kleine Zeitung, August 2nd, 2015 (translated by Elisabeth Meister)